Science Policy and the new Government – views from molecular bioscientists

In February, the Biochemical Society ran a Policy Spotlight on Science Policy and the new Government. This survey of the Policy Network sought views on international collaboration post-Brexit in light of the result of the December 2019 general election. 
What are the policy issues relating to international collaboration post Brexit that most concern you?
When asked to rank key science policy issues relating to international collaboration post-Brexit, respondents thought that immigration (32 %) and European funding framework participation (31 %) were the most important concerns. These were the two most important issues for both early career and established scientists. Trade or procurement of reagents and access to facilities and infrastructure were also viewed as key issues. Survey respondents acknowledged that many of these issues are interlinked.
Science and research are often described as being inherently international, and this was reflected in our Policy Spotlight with respondents from all over the world. Further, most of our survey respondents have worked or studied outside of the UK at some point.
Immigration policy affects scientists traveling for variety of reasons and durations. To get a picture of this variety we asked what aspects of immigration policy are of concern. The status and rights of EU scientists currently working in the UK was viewed as important by 78% of respondents. Recruitment and the attractiveness of the UK as a place to work also selected by more than 70%.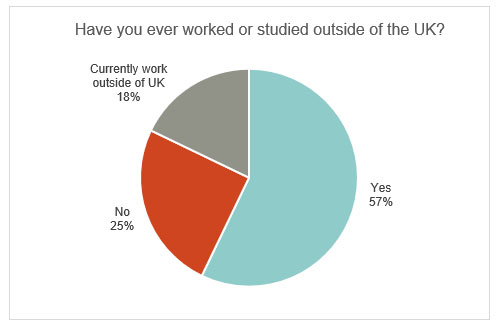 Established researchers were more concerned with movement for training programmes and ERASMUS than early career researchers and students (59 vs 30%).
Shortly after this survey began, the Government unveiled its new "Global Talent Visa" which may have addressed some concerns about immigration. This announcement was broadly welcomed by the scientific community; however, some groups remain critical of the costs of visas.
A definitive 85 % of respondents thought that the UK should seek to fully associate with Horizon Europe.
Although the Government has expressed that it would like to align with the programme, this still remains part of ongoing negotiations with the EU. It is possible that the UK may not align and may seek to facilitate international collaborative research via a different framework. The views shared by the Network in this Policy Spotlight gave aspects that the community would like to see included in a new framework including access to international facilities, continue to fund excellence and basic research and foster collaborative networks.
Respondents to our survey shared areas with which they felt it would be helpful for the UK to align, or to diverge with the EU in future.
| | |
| --- | --- |
| Align with EU | Not align with EU |
| Medicines | Biofuels |
| Workers' rights | Genetic modification |
| Health and safety |   |
| Data sharing |   |
| Genetic modification |   |
Genetic modification appears in both columns – our survey respondents were balanced in whether they thought the UK should align or not align regarding genetic modification legislation. Genetic technologies have been described as one of the opportunities for the UK on leaving the EU.  
Opportunities for science in the new Government
Overall, there was some positivity from respondents, particularly around the potential for an uplift in research funding over the next five years including the funding of blue-skies research and the UK remaining a leader in research and development.
With key EU-UK negotiations ongoing, the Biochemical Society will continue to advocate for the advantages of participation in Horizon 2020 for the molecular biosciences and seeking association with its successor, Horizon Europe. This will include the aspects shared in this survey that the community would like to see continued.
On Brexit, funding and immigration we work closely with the Campaign for Science and Engineering. We will continue this work, highlighting issues of importance to the molecular biosciences through colleagues and partner organisations.  
The Biochemical Society will use the views shared in this survey to help inform our ongoing policy activities. For example, this survey highlighted that the funding of blue-skies research is a concern to our community. As Parliament and the Government seek views on how it should fund research, (for example through this consultation on proposals for a new funding body) we will seek to highlight the importance of discovery research.
Since this Policy Spotlight was conducted, SARS-CoV-2 has spread across the world. The COVID-19 pandemic will have ongoing impact on the research environment in the UK and around the world, including on many of the issues discussed here.