Lab-on-a-chip technology in biochemistry: a hands-on workshop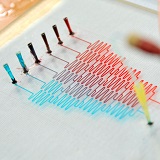 Lab-on-a-chip devices allow precise control over liquid handing at microscopic scales and are applied in anything that involves liquid handing from enzyme-catalysed reaction chemistry to synthesis of smart biomaterials, point-of-care clinical diagnostics, and biomedical studies on cells and tissue.
This 2-day training event provided an overview of the current state-of-the-art approaches to lab-on-a-chip, from materials and fabrication to biochemical and biomedical research applications. With hands-on sessions building on the talks, this event was a unique opportunity to explore what has been highlighted in recent years as a hot research topic in biomedicine and the biosciences. The programme also included a session focused on an industry perspective of these technologies, their clinical applications and 3R strategies for in vivo models.