Each SciberBrain topic provides 'Some science','Some opinions','Some activities' appl and a 'Quiz'. Check through each section to ensure the activities are appropriate for your learners.
If possible, ask students to prepare for a discussion by exploring your chosen topic on www.sciberbrain.org for homework or in a preparation lesson.
Suggested timings and activities for a class discussion lesson are set out below (or print out the handbook for more details).
The first section for each topic provides 'Some science'. This is an animated slide-show which provides information on:

– Technical details of the process and key concepts
– What scientists are able to do now
– What scientists hope to be able to do in the future. Project this to your class as an introduction or revision.

Students can explore other sections of the topic if they haven't already done so and if you have time.
Where possible, arrange seating in a circle with no desks or tables in between so that all participants, including yourself, can see and hear everyone else clearly. Upon arrival, explain to the students that the room is arranged this way to enable dialogue between them. Starters can be useful to get everyone in the group engaged and contributing. Some help students get into collaborating, some into connecting concepts or analysing. Here are some you might like to try:
– Collective Sentence: Make a sentence using one word each in turn. Start by modelling a 10-word sentence with a partner, using 1 word each alternately. Then put students into pairs and have each pair make a 10-word sentence. Then go for a full circle.
– All Sit Down: Without gestures, words or sequences, all sit, one at a time. Two at the same time? Stand up and try again! Ask for help in how we might make it work better.
– Eye-Contact Shuffle: Have everyone look around at eye level. If someone meets the gaze of someone else, they swap places.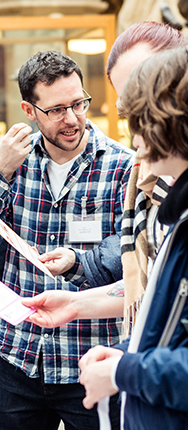 Open PDF showing how SciberBrain topics link to AQA
Open PDF showing how SciberBrain topics link to Edexcel
Open PDF showing how SciberBrain topics link to OCR